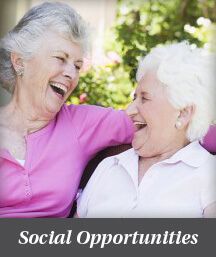 One of the most difficult challenges for seniors is maintaining or finding relationships with people from their generation who share their interests, experiences, and hobbies.  This peer interaction is essential for a healthy retirement and aging. Social isolation is unhealthy for people of all ages but particularly older adults.  It can lead to depression, dementia and other complications related to stress.  Active socially engaging environments help seniors retain health, happiness and a general sense of purpose.
The physical health benefits of socializing are equal to those of physical exercise.  The feeling of being worthwhile and loved leads to a longer life.  Not only do strong social connections help you live longer, but they also aid in better intellectual performance.
We connect individuals 60 and Better to a variety of physical and wellness opportunities, relevant educational programs and interesting adult learning experiences.  We also arrange meet-ups that include walking, biking, sightseeing, tours, and entertainment.  In support of the Alliance mission to encourage independence throughout the aging process, we are committed to Keeping Up With You. For more information, email activities@allianceyc.org or call (406) 294-1588.
KUWY Activities Sept/Oct 2021
Slow and Gently Yoga
Developed by yoga instructor, Tania Klein
Featuring Tania and her pet pals, Huck and Finn